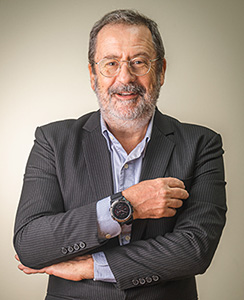 Dominique Rene Jacky Billon
General Manager
Dominique holds a scientific baccalaureate and graduated from the School of Management Sup de Co Poitiers (Poitiers, France). From 1985 to May 1991, he was working with Coopers & Lybrand, (Paris, France). He joined the Holcim Group in June 1991 and has occupied several posts within the Group before taking up the role of General Manager of Kolos Cement Ltd in January 2014.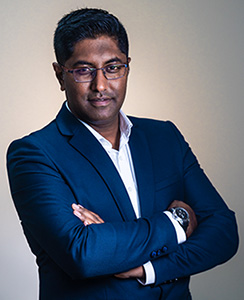 Chaveesh Gunesie
Head of Finance 
Chaveesh Gunesie is a distinguished Fellow of the Association of Chartered Certified Accountants. He brings a wealth of knowledge and expertise to his role as Head of Finance. In this capacity, he is responsible for overseeing the Accounting, Financial planning and analysis, Treasury, Credit Control, Procurement, and IT functions of our organization.
His career spanning 16 years in medium and large companies equipped Chaveesh with an extensive experience in building and leading finance teams. Starting off his career as an Analyst at BDO in 2006, he was engaged in various assignments in the audit and advisory team. Over the years, he has held several positions as an Accountant in different companies, demonstrating his ability to take on new challenges and responsibilities.
Joining our organization in June 2017 as an Accountant, Chaveesh's hard work and dedication led to his promotion to Accounting Manager in June 2020. From his current position as Head of Finance, Chaveesh is committed to ensuring that our financial operations are efficient, effective, and aligned with our business objectives. His in-depth knowledge of finance and accounting best practices, combined with his leadership skills, make him a key player for our team.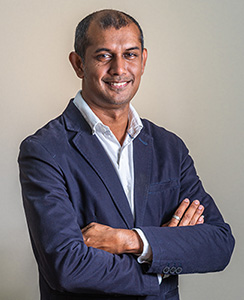 Kshil Gujadhur
Head of Operations
Kshil Gujadhur, is an accomplished professional with an extensive background in operations management. The graduate of the University of Limoges in France earned a "Bac +3, Licence Professionnelle d'électronique, d'optique de télécommunication et systèmes radio fréquence" and began his career with Kolos Cement Ltd in 2002.
Throughout his tenure with the company, Mr. Gujadhur has held various roles, demonstrating exceptional technical acumen and a strong work ethic. In May 2016, he was promoted to the position of Technical Manager, where he continued to showcase his expertise and leadership abilities.
In recognition of his exceptional contributions and commitment to the company's success, Mr. Gujadhur was promoted to the position of Head of Operations in 2021. In this role, he leads the company's operational strategies, overseeing day-to-day operations, ensuring efficiency and productivity, and driving growth and profitability. His vast experience and deep knowledge of the industry are but a few factors which make Mr. Gujadhur a key driver in leading the company to deliver tangible impact.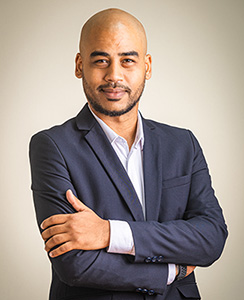 Sean André
Head of Sales & Marketing 

Sean André, is a seasoned creative and marketer who has earned a Bachelor of Arts in Graphic Design and Creative Advertising from Charles Telfair Institute, Curtin University (Australia) and a Master's in Marketing from Paris Dauphine University (France) in 2020. His rich career allowed Sean to excel in a variety of strategic functions.
Sean's professional journey started in Graphic Design, before making a shift to Sales and Marketing in 2018. He joined Gamma Materials Ltd in 2016 and worked across diverse portfolios such as Marketing, Communication, Events, and Sales. In 2018, Sean joined Kolos Cement Ltd as Sales Supervisor and his impressive performance led to him to work his way up to the position of Sales and Marketing Manager in 2020. His exceptional skills and leadership qualities were quickly recognized and he was promoted to the role of Head of Sales and Marketing in 2022.
With his extensive experience and knowledge in Sales and Marketing, Sean brings a wealth of expertise and strategic insights to his role. He is a visionary leader who is passionate about driving organizational growth and achieving business objectives. Sean is committed to delivering exceptional results, building strong partnerships, and delving in creative and innovative thinking to exceed customer expectations.